Press & Comments
Some press and some kind words about me and my work from fellow music industry professionals. Thank you for all the support I've had from everyone!
"If ever there was a case for cloning a musician, Becky Baldwin is it. She provided the perfect solution for my band "Multi Story" when our bass player was unavailable for an important gig. All original music spanning a period of 30 years and she was ace. This was down to her thorough preparation and organisational skills. In addition to 100% reliability with rehearsal arrangements, her musicality and stage presence/image all helped to ensure the gig's success. I've changed my mind, don't clone her, she's too special!"
Rob Wilsher – Multi Story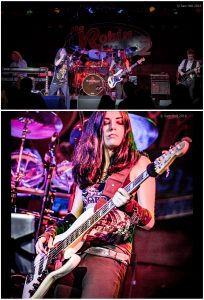 "If you're looking for the ultimate role model for a working bass player, look no further than Becky Baldwin. Between her unrivalled work ethic and her ability to blend into any musical situation while still leaving her own stamp, Becky has all the skills and professionalism required to provide all you would ever need from a musician."
Iain GT Davies – Onslaught, Endeavour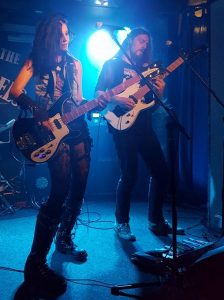 "Becky filled in for us on our French tour in 2015. She was a joy to work and tour with, she learned our entire set in a couple of days, and her standard of playing and stagecraft were uniformly excellent. She also played bass on a couple of tracks on our forthcoming album, and proved to be just as professional in the studio."
Rocker – The Flatmates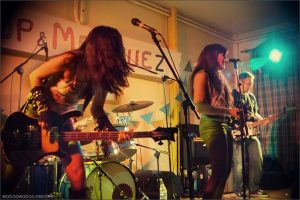 "Becky is one of the most talented, hard working and enthusiastic musicians I've ever had the pleasure of working with. Her work ethic combined with her ability to self promote is a recipe for an extremely successful career. Becky is a top quality bass player and is able to play many styles to an incredibly high standard. She also has great attention to detail and has a great ear for a huge bass tone."
Dan Egan, Band Manager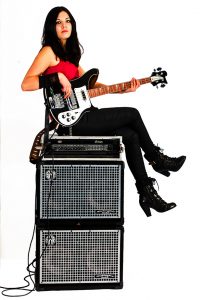 "I've never met a bass player as tenacious as Becky. Since leaving BIMM 5 years ago I've been amazed at the dedication which she's displayed in pursuing her musical career. She's been extremely pro-active in creating opportunities for work and has clearly developed a keen sense of how the industry works. Having taught her for several years I know that she's deeply committed to her instrument, but is also easy to get along with and is always an asset to any musical situation. I've been happy to recommend her for work on several occasions and I'm confident that she'll continue to have great success as a bassist."
Stuart Clayton, Bassline Publishing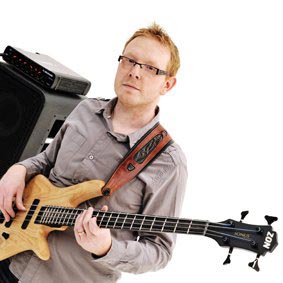 "Becky has a great online following which helped her in the early stages of the competition for the public nomination and votes, but it was her hard work in quality bands that got her noticed and selected by our judges to win our award for Bassist of the Year in 2016"
Jay McGuire – TBFM, Hard Rock Hell Radio