About
Proud endorser of D'Addario Strings, Neural DSP modelers, Darkglass Amps and Alperious Pickguards.
Becky Baldwin is one of the UK's busiest rock bassists, currently working with heavy metal band Fury and alternative rock band Hands off Gretel. She is also known for filling in for absent bass players with other bands, which in 2022 took her on a tour of the USA, Canada and Mexico with metal legends Mercyful Fate.
After playing the piano as a child, Becky picked up the bass guitar as a teenager and began performing with bands at school. In 2009 she moved from Trowbridge to Bristol to study at BIMM Bristol and became closely involved in Bristol's music scene. Becky holds a BA Honours degree in Professional Musicianship and now lives in the birthplace of heavy metal – Birmingham, UK.
Becky is an energetic live performer and efficient recording musician who specialises in fingerstyle bass guitar playing, and rock and metal genres. Since 2012, Becky has performed approximately 100 gigs per year, offering her skills for a wide variety of bands (including covers and original bands, genres ranging from metal to folk, urban, funk, pop, jazz and more.) Music has taken Becky all over Europe and into the USA for touring and recording sessions.
Most of Becky's recording projects are associated with her bands or with online collaborations. All information about released recordings can be found on the 'Discography' page. Becky has also recorded sessions for Total Guitar magazine and the Rockschool exam board (now renamed 'RSL Awards'). Her recording endeavours have taken her to quality studios such as Invada Studos, Vale Studios, Treehouse Studios, Real World Studios (Peter Gabriel), Tilehouse Studios (Mike Oldfield) and West Triad Studio in Venice, California (owned by Mark Schulman of P!nk, Cher, Velvet Revolver etc). Recordings can be found on the 'Media' page and releases can be purchased via the bands' websites.
Becky is a co-founder of specialist private tuition company Bristol Rock Centre, who run a teaching and rehearsal studio in Mangotsfield. She has aided exam board 'Rockschool' in the writing and proofing of tuition/exam books including 'Let's Rock Bass', the 'Popular Music Theory' collection and the 2014 Vocal syllabus. She has led workshops with Bristol Rock Centre and Rockschool, and has given lectures at BIMM Bristol, ACM Birmingham and Access Creative College. Becky has received tuition from top musicians such as Stuart Clayton (Carl Palmer band), Damon Minchella (Ocean Colour Scene, Paul Weller) and Jim Barr (Portishead, Get The Blessing).
For a number of years Becky was an active member of the Musician's Union Wales/South West England regional committee and Equalities Committee representing female musicians. She holds Public Liability Insurance and an enhanced CRB certificate. All equipment is PAT compliant.
Equipment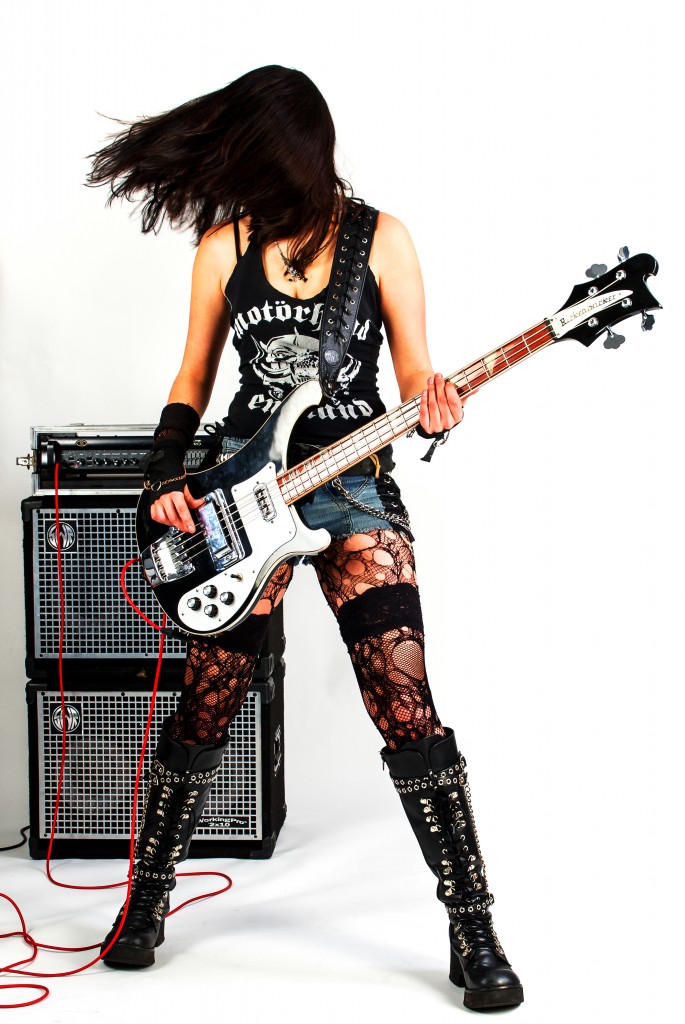 Basses:
Rickenbacker 4003
Rickenbacker 4001
Fender Deluxe Jazz V (5 string)
Danelectro Longhorn
Neural DSP Quad Cortex
Darkglass AO900 Head + DG212N Cabinet
D'addario NYXL Strings