Tuition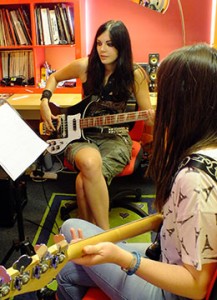 Becky has worked as a bass tutor for 10 years and is currently taking on students for online lessons anywhere in the world.
After graduating from the British Institute of Modern Music, Becky co-founded a rock school Bristol Rock Centre. There, along with other tutors Becky offered private tuition, workshops, band coaching, rehearsal space and event promotion. Becky also appeared as a guest lecturer for universities and schools such as BIMM, Academy of Contemporary Music, Richard Huish College, Teach Me Music Academy and more.
Becky's lessons are comprehensive yet focused on what the students aspire to achieve. Work on technique, music theory, sight reading, improvisation and grades with Becky, or just learn your favourite songs and gain the confidence to improve your live performance. Becky's involvement with RSL Exams and books has given her a greater insight of how to approach music exams and how to apply what you are learning. As a graduate and occasional lecturer of BIMM Bristol, Becky can aid students who aim to progress onto music at higher education.
Lesson prices:
1 hour: £60    (Book 4 lessons for £220)
30 mins: £37    (Book 4 lessons for £140)

Becky also has a number of online students who learn through Patreon. This is a more cost efficient way to get direction and resources of exercises and transcriptions to try out in your own time. Check out some of the videos below to see what content is on offer on Patreon!
Tuition Videos (Subscribe Here!)
Transcription
Here are a selection of bass transcriptions used for teaching and some instructional videos. I have included both TAB and standard notation versions to help anyone wanting to practice reading bass clef. Please get in touch for a quote if you are looking for a bass transcription service.
Doctor Doctor – UFO: Tab (PDF) | Notation (PDF)
Eve of War – from Jeff Wayne's 'War of the Worlds': Tab (PDF) | Notation (PDF)
Party Hard – Andrew WK: Tab (PDF) | Notation (PDF)
Seek And Destroy – Metallica: Tab (PDF) | Notation (PDF)