DORJA Album 'Gemini'
DORJA are celebrating the Crowdfunder's release of our debut album 'Gemini'!
Check out the first single from the new release 'Use You'
The campaign that funded the album entirely by fan input was completed in just 3 weeks, and went on to exceed its target. Copies of the album on CD and vinyl, as well as exclusive T-shirts, handwritten lyrics sheets, and other merchandise and personal items, have all been sent out to fans all over the world.
The remaining limited stock of CDs, Vinyl and other merch will be available at upcoming gigs in the UK, Germany and Belgium.
28/06/18 @ Tiefengrund, FRANKFURT (DE)
29/06/18 @ Keller Klub, STUTTGART (DE)
30/06/18 @ Le Salon, SILLY (BE)
07/07/18 @ Scotfest, EDINBURGH, (UK)
08/07/18 @ Trillians, NEWCASTLE (UK)
10/07/18 @ Exchange, BRISTOL (UK)
12/07/18 @ Lounge 666, LONDON (UK)
13/07/18 @ The Wheatsheaf, OXFORD (UK)
14/07/18 @ Actress & Bishop, BIRMINGHAM (UK)
15/07/18 @ SOS Festival, MANCHESTER (UK)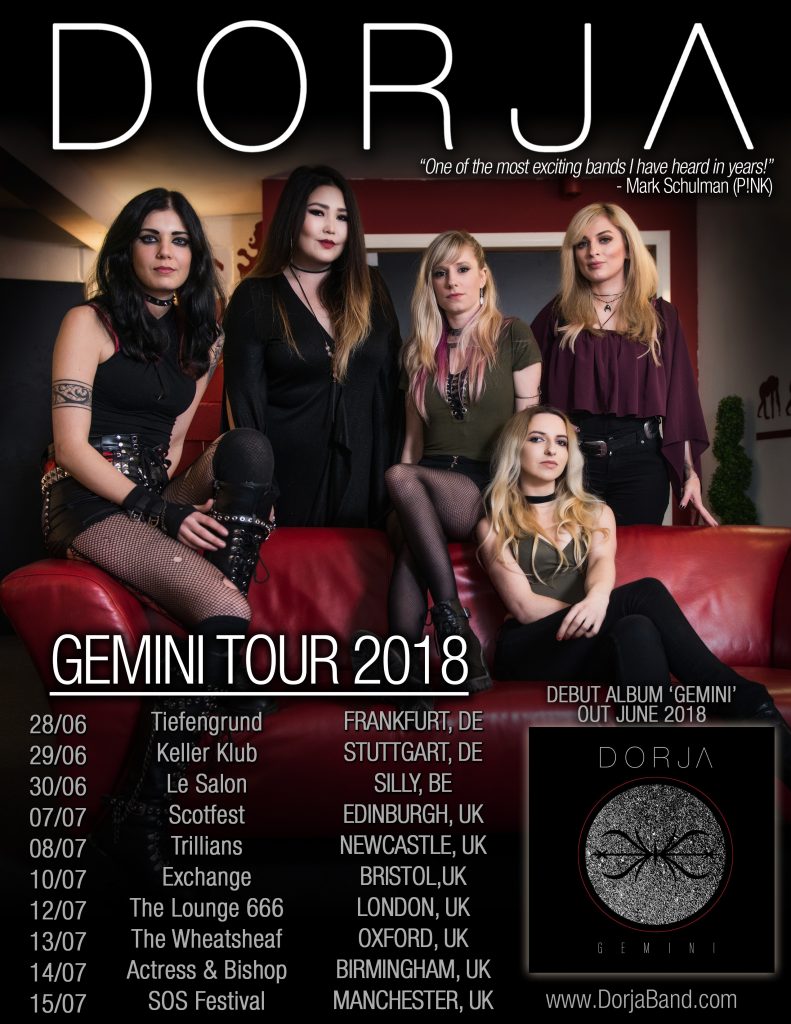 Keep up to date with DORJA at www.dorjaband.com
Stay Up To Date
Connect with me on social media
Latest News
2 Apr 2020 - New Fury Album 'The Grand Prize' Out Now!
20 Mar 2020 - PATREON LAUNCH
13 Mar 2020 - New Single 'Burnout' by Fury
More news »
Next Gig
06 Jun 2020

- Long Division Fest, Wakefield, UK
More info »