New Album 'Born to Sin' Out Now!
BORN TO SIN – PRESS RELEASE
Fury open the gates of hell with raucous new album 'Born To Sin', released on Friday the 18th of March 2022.
Following on from their 2020 release 'The Grand Prize', the band are back with a louder, harder and faster edge with their demonic-themed new album. Vocalist Julian Jenkins explains:
"Born To Sin has everything you'd expect from a Fury album, from fast energetic rockers perfect for working your neck muscles, to our now traditional (one per album) ballad. And of course the album is awash with wailing lead guitar, bass and drum solos, big catchy vocal hooks and an absolute choral feast of backing vocals. Overall the album has a more aggressive sound, whilst still maintaining all of the melodic elements that make us…us."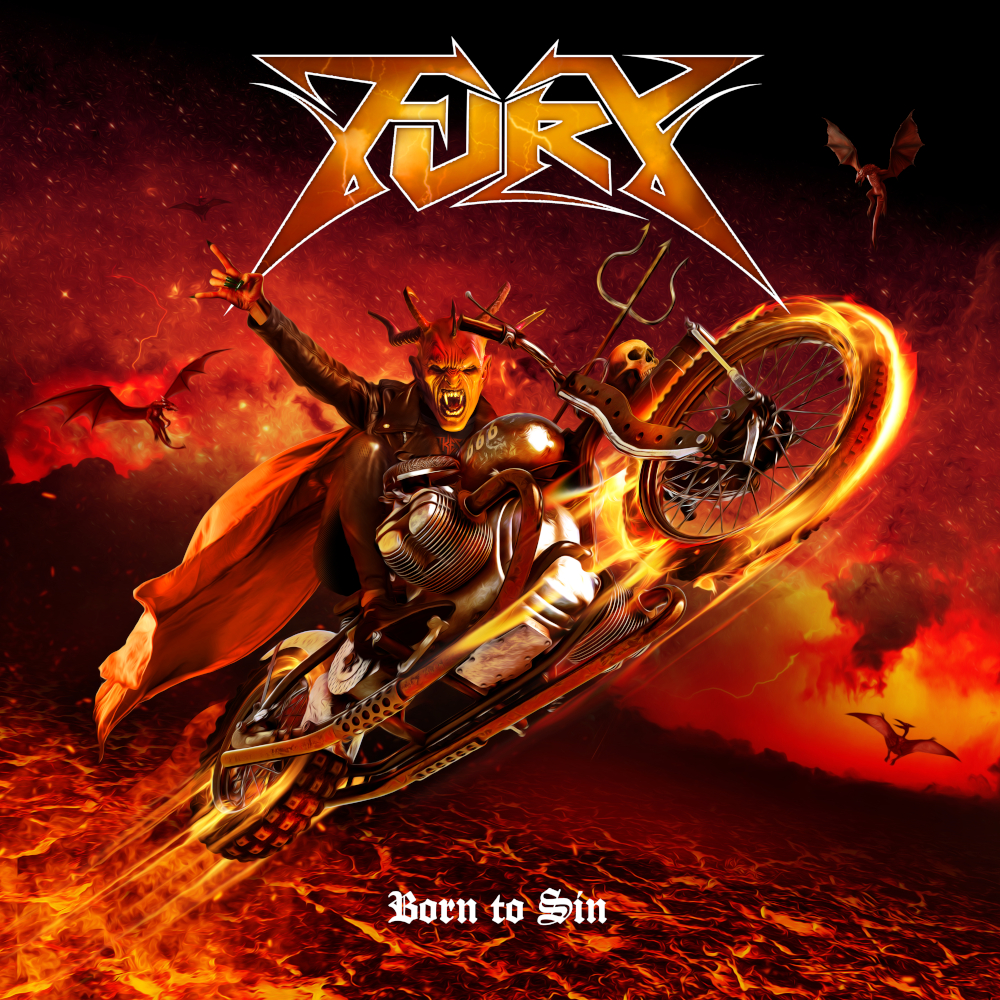 The band have turned to darker and more introspective themes, which is unsurprising for an album written and recorded during multiple lockdowns and cancelled tours since Spring 2020. However, there is still plenty of the uplifting energy and excitement that has been present in the band's previous releases. 
Bassist Becky Baldwin discusses the album's theme
"It felt like our previous album 'The Grand Prize' divided opinions amongst the metal community – although the songs have been very popular, the motor racing theme did not connect with everyone. This time around, we have gone back to the roots of metal and opted for badass demonic imagery. We also employ one of the oldest folklores, in our tale of selling our souls to the devil for fortune and fame."

Watch 'Hell of a Night' music video here, released 15th October 2021
'Born To Sin' features a broader soundscape for Fury, with layered vocal harmonies now becoming an integral part of the production. We hear much more from backing vocalist Nyah Ifill, who featured as a guest vocalist on 'Upon The Lonesome Tide' and Road Warrior' from their 2020 album. The prominence of piano and organ on the album's only ballad, 'Shadows and Dust' takes Fury in a previously unexplored bluesy direction.

The second single release 'If You Get To Hell First', released 4th February 2022
Watch the third music video 'Nowhere to be Seen' released 25th February 2022.
The fourth single 'Born to Sin' receives the DIY video treatment, released 11th March 2022
CDs, merch and pre-orders of the vinyl are available at www.furyofficial.co.uk
Album line up:
Julian Jenkins – Guitar, Vocals
Becky Baldwin – Bass, Backing Vocals
Tom Fenn – Drums
Jake Elwell – Lead Guitar
Nyah Ifill – Backing Vocals
Jade Maris – Backing Vocals (Hell of a Night)
Robin Fox – Piano, Organ (Shadows and Dust)
Matt Jones – Lead Guitar (Born To Sin)
Mixed by Pete Newdeck
Mastered by Harry Hess
Artwork by Very Metal Art
Find pre orders, full gig listings and ticket links on www.furyofficial.co.uk
Fury 2022 Tour Dates.
More shows TBA
11/03 – The Yorkshireman, Sheffield, UK
25/03 – Level III, Swindon, UK
31/03 – The Globe, Newcastle, UK
01/04 – The Waterloo, Blackpool, UK
02/04 – Bannermans, Edinburgh, UK
03/04 – UK Bass Guitar Show, Liverpool, UK
07/04 – Hare and Hounds, Birmingham, UK
08/04 – Nambucca, London, UK
09/04 – Komedia, Brighton, UK
10/04 – Sub 89, Reading, UK
14/04 – Cobblestones, Bridgwater, UK
15/04 – The Firehouse, Southampton, UK
16/04 – The Black Prince, Northampton, UK
01/05 – Brixham Pirate Festival, UK
05/05 – The Met Lounge, Peterborough, UK
06/05 – B2, Norwich, UK
12/05 – The Star and Garter, Manchester, UK
13/05 – Ivory Blacks, Glasgow, UK
14/05 – County Music Bar, Chesterfield, UK
20/05 – Fuel Rock Club, Cardiff, UK
21/05 – Boom, Leeds, UK
04/06 – Breaking Bands Festival, Bromsgrove, UK
09/06 – Boardie Takeover, Download Festival, UK
26/06 – Uprising Festival, Leicester, UK
30/06 – Yardbirds, Grimsby, UK
01/07 – SOS Festival, Manchester, UK
16/07 – The Carlisle, Hastings, UK
21/09 – De Cafe Meister, Geleen, NL
23/09 – Rising Fest, Dijon, FR
29/09 – Backstage Rockcafe, Konstanz, DE
30/09 – Club Bastion, Kirchheim Unter Teck, DE