New Single from Hands Off Gretel
The new single from Hands off Gretel is finally here! Check out 'Kiss Me Girl' with the music video here on Youtube, or stream and download from all good online services!
The Kiss Me Girl UK tour has begun and we are looking forward to seeing you at the shows!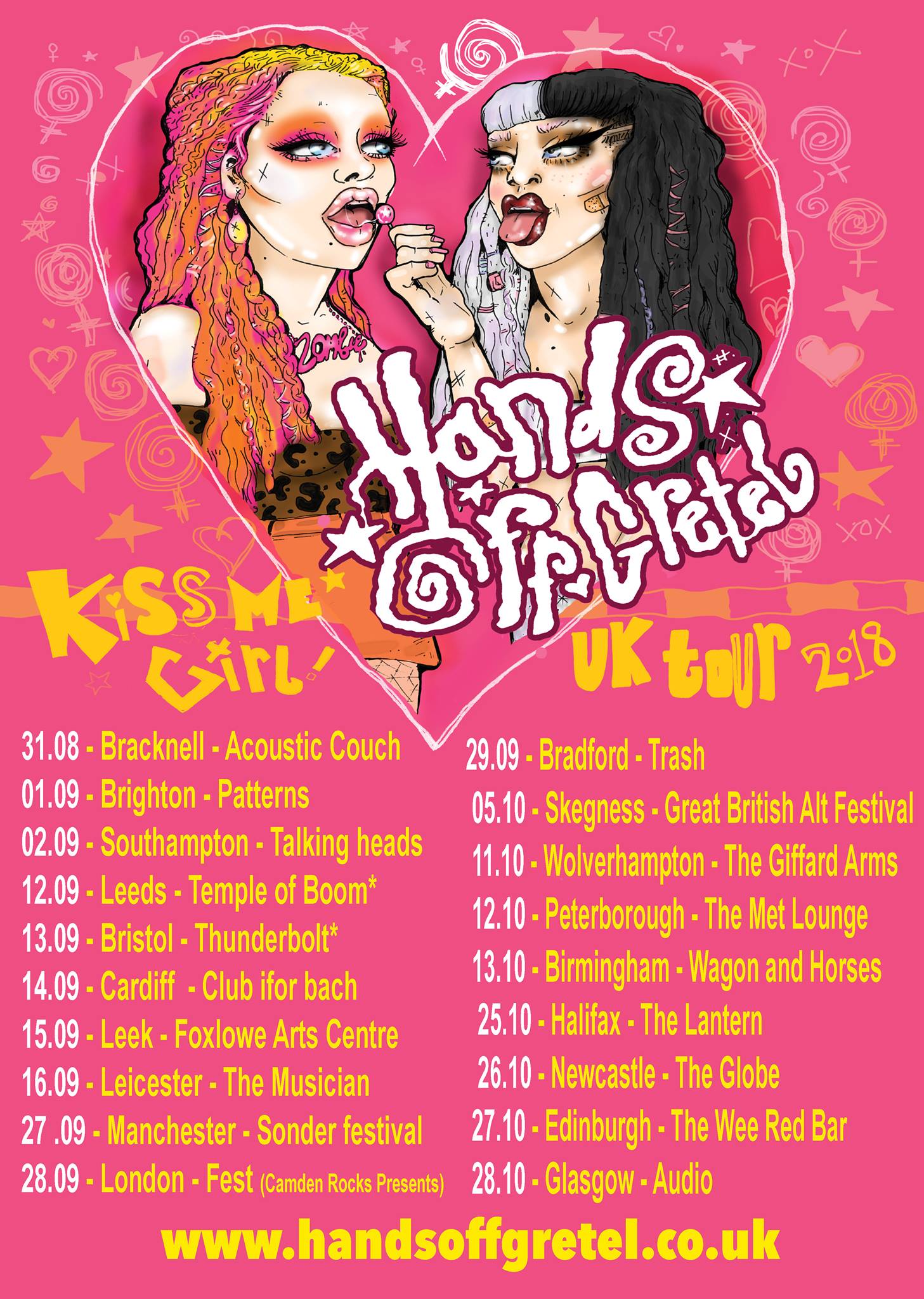 UK TOUR:
31/08 The Acoustic Couch, BRACKNELL
01/09 Patterns, BRIGHTON
02/09 Talking Heads, SOUTHAMPTON
12/09 Temple of Boom, LEEDS
13/09 Thunderbolt, BRISTOL
14/09 Clwb IFor Bach, CARDIFF
15/09 Foxlowe Arts Centre, LEEK
16/09 The Musician, LEICESTER
22/09 The Fulford Arms, YORK
27/09 Sonder Festival, MANCHESTER
28/09 The Stables Market, LONDON
29/09 Trash, BRADFORD
07/10 The Great British Alternative Festival, SKEGNESS
11/10 The Giffard Arms, WOLVERHAMPTON
12/10 Met Lounge, PETERBOROUGH
13/10 Wagon & Horses, BIRMINGHAM
25/10 The Lantern, HALIFAX
26/10 The Globe, NEWCASTLE
27/10 The Wee Red Bar, EDINBURGH
28/10 Audio, GLASGOW
Stay Up To Date
Connect with me on social media
facebook
twitter
instagram
Latest News
30 Jan 2020 - January 2020 Newsletter
24 Jan 2020 - New Music Video 'Galactic Rock' by Fury Released Today
24 Jan 2020 - New Music Video 'Milk' by Hands off Gretel
More news »
Next Gig
27 Feb 2020

- Brudenell Social Club, Leeds, UK
More info »